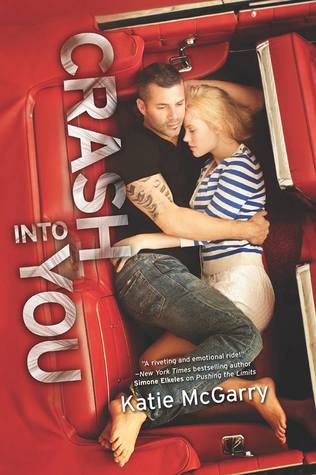 Goodreads Photo
Crash into You
by
Katie McGarry
My rating:
5 of 5 stars
Expected publication: November 26th 2013 by Harlequin Teen
Summary:
From acclaimed author Katie McGarry comes an explosive new tale of a good girl with a reckless streak, a street-smart guy with nothing to lose, and a romance forged in the fast lane.

The girl with straight As, designer clothes and the perfect life-that's who people expect Rachel Young to be. So the private-school junior keeps secrets from her wealthy parents and overbearing brothers...and she's just added two more to the list. One involves racing strangers down dark country roads in her Mustang GT. The other? Seventeen-year-old Isaiah Walker-a guy she has no business even talking to. But when the foster kid with the tattoos and intense gray eyes comes to her rescue, she can't get him out of her mind.

Isaiah has secrets, too. About where he lives, and how he really feels about Rachel. The last thing he needs is to get tangled up with a rich girl who wants to slum it on the south side for kicks-no matter how angelic she might look.

But when their shared love of street racing puts both their lives in jeopardy, they have six weeks to come up with a way out. Six weeks to discover just how far they'll go to save each other.
EEEP!!! I have been waiting for this! Isaiah, Isaiah... what you do to my heart. All the books in this series have been great, but I have been pining for the story of the quiet, brooding, loyal, dark and mysterious Isaiah. And it did NOT disappoint!
When I saw this was available on NetGalley I secretly did a little happy dance. I have been watching and waiting for it's release. McGarry does such a beautiful job with her characters, keeping true to each one and bringing them to life. I really had a hard time putting this one down... I lost some sleep because I couldn't stand not knowing what happened. It was soooo worth it!
Cars! Not just any cars, but Mustangs!! A girl who knows more about cars than most males and doesn't mind getting greasy... oh and street racing! Plus a hot buff guy with tattoos, piercings and secrets? What is not to like about this? Lots of action, bad guys and did I mention a hot guy? The romance and love story is one of the best I've read in a long time. McGarry has a beautiful way of bringing out the tenderness and passion yet keeping it pretty clean and comfortable. Her characters all seem to be intense, no matter what their personalities were, which I adore.
I would not recommend this book to teens under the age of 16 because of the language, gang activity, and some sexual situations.
Here is an excerpt.. ENJOY!
From Rachel's Point of View:
Isaiah tugs on my hand, guiding me closer to him. Our arms touch and I shiver as if I was zapped by lightning.
"We're not out of the woods yet," he says. "Cop cars are everywhere."
I turn my head to the street and stop when Isaiah squeezes my hand. "Don't look. We've got to blend in."
"I don't understand," I say in a hushed voice. "We're not in our cars. How would they know?"
Isaiah keeps his eyes straight ahead. "I only said I wouldn't rat. I didn't say anything about anyone else."
My mouth dries out—West's friends. Did they escape or are they telling the cops my phone number and address? Can this get any worse?
Isaiah lets go of my hand and in a blur, pushes my back against a cold brick wall. His body becomes a hot, thick blanket over mine. The fine hair on my neck stands on end and my eyes close at the sensation of his warm breath on the skin behind my ear.
I'm absolutely terrified, but at the same time my body tingles with a weird anticipation.
"There's two cops walking the street," he whispers.
Peeking beyond his bicep, I see the two blue uniforms stalking in our direction. "What do we do?" I barely breathe out.
His hands go to my waist—my waist! And they feel so right. I like this closeness. Maybe I like it too much. A guy has never been this close to me. Never. And I can't believe it's happening, even if it is to keep from being arrested.
My heart beats frantically in my chest. Isaiah is hot and scary and hot. Why on earth would a guy like him want to be anywhere near a girl like me?
It's the adrenaline rush. That's what it is. I like how he feels because I'm still experiencing the adrenaline rush from Isaiah's NASCAR driving skills. His arm shifts, and I love how that movement causes his muscles to flex.
Stop it, Rachel. It's not real. Focus.
"Kiss me," he whispers. "If you kiss me we'll blend in."
My mouth drops open as if to make a sound, but nothing comes out. How do I say the words…I don't know how to kiss.
View all my reviews